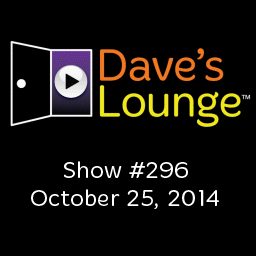 This week, we feature several tracks from "Offline Vol. 1", a brand new Sine Music compilation, as well as some new singles from lounge favorites Submotion Orchestra and Alice Russell. I'm looking forward to taking some of these tunes with me to Philadelphia in a few weeks.
Oh, did I mention that? I'm DJing in Philadelphia next month! You can hear me do live sets at the Gallerie Isada on November 14 and 15 as part of DJX Weekend. Click here for more details. (If you haven't heard any of my live sets, check out my Mixcloud page.)
Playlist for Dave's Lounge #296:
Don't forget to tell me your favorite song from this week's show in the comments below!
Take your place to chill on the go with the Dave's Lounge App, which gives you to streaming access all the latest episodes of Dave's Lounge, plus bonus mixes not available in the podcast, for only $1.99. The Dave's Lounge App is now available for iOS, Android, Windows Phone, and Windows 8.
Enjoy the show!