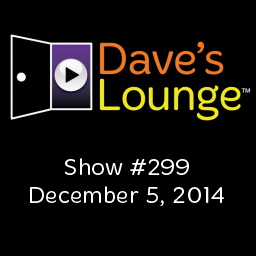 And before you know it, another calendar year approaches its end. This week's episode is the last regular show before the 2014 Yearbook episode, which will also be show #300. We approach that milestone with a bunch of free downloads in this week's playlist, including several tracks from the new Cold Busted compilation Bust Free 17, and some brand new music from the artist who headlined the 2013 Yearbook.
Oh, and if you would like to help me hack the music industry, just go to http://daveslounge.com/musicexperiment and take a few minutes to watch the video and spread the word to your friends. We need numbers to make this thing work…
Playlist for Dave's Lounge #299:
Don't forget to tell me your favorite song from this week's show in the comments below!
Take your place to chill on the go with the Dave's Lounge App, which gives you to streaming access all the latest episodes of Dave's Lounge, plus bonus mixes not available in the podcast, for only $1.99. The Dave's Lounge App is now available for iOS, Android, Windows Phone, and Windows 8.
Enjoy the show!