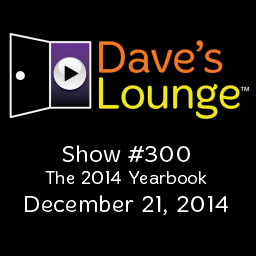 As our lonely little planet once again turns a corner and makes its way around the sun, we look back at the year that was by taking a moment to examine what our media landscape has become. We live in a world where the recording and radio industries are run by big data, and it turns out we're the ones supplying a lot of that data. We live in a media environment where a breach of a movie studio's computer security can somehow morph into a "terrorist threat" against "American interests". In this sort of environment, it helps to understand who's really delivering a message like that and why. It also helps to realize how that environment gets funded, and what we can do to change that.
Independent voices in media are more important than ever these days, and there's never been a better time to support them.
If you've missed hearing me talk at the beginning of the show, you're in luck. I've got plenty to say this week.
I also have more than two hours of great music from this year for you. Here are the songs that you selected as your favorites from 2014. Here's to another trip around the sun, and here's to the music that guided us along the way…
Playlist for Dave's Lounge #300:
Background music:
Terracota Blue, "Leaves"  Buy from: Bandcamp
Klangstein, "Run"  Buy from: iTunes
Permanent4, "By Candlelight"  Buy from: iTunes
You can hear another great mix of tunes from 2014 on the Dave's Lounge app, which will give you to streaming access all the latest episodes of Dave's Lounge, plus bonus mixes not available in the regular podcast. The Dave's Lounge iPhone app is available for iOS, Windows Mobile, and Windows 8. Android users in the U.S. can get the app for free exclusively from Amazon.
Enjoy the show, and as always, thank you for listening.