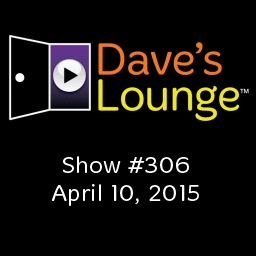 As the rain fell and the thunder shook the sky, I took a moment to reflect on Dave's Lounge turning ten years old very soon. I'm starting to put together the 10th anniversary mix now, which will be released as show #308 on May 8. Once upon a time, I envisioned the 10th anniversary as being a big live concert with a bunch of my favorite artists from over the years. Alas, I asked a girl to marry me, so I don't have the money to put into putting on a show right now.
Still, I've got plenty of great new music for you this week. Our old friends Dive Index have a new video for their latest single, which you can watch here. Plus, our pals at Soulection have a new EP from a teenage wunderkind that you really need to hear…
Playlist for Dave's Lounge #306:
Don't forget to tell me your favorite song from this week's show in the comments below!
This episode is sponsored in part by Lynda.com, the online learning site with thousands of video courses that can help you learn new tech, business, and creative skills. Sign up for a 10-day unlimited free trial at lynda.com/lounge.
Enjoy the show!