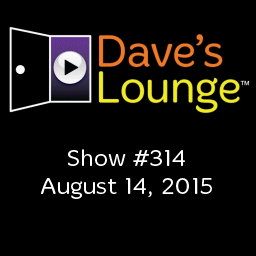 Last week, I got to do one of my rare live electronic sets for fusion dancers here in Durham, NC. You can stream the entire set on my Mixcloud page:
http://mixcloud.com/daveslounge
Sadly, I can't put that mix on the podcast feed, as it contains a few remixes and mashups of major label songs, including one particularly famous song that I enjoyed remixing quite a bit. I also did a bit of live mixing in that set, which got a decidedly… mixed reaction. One of these days, I'll fiddle with Traktor DJ for the podcast.
This week's podcast mix contains a few tracks I might have to work into future fusion sets, especially this Gavin Turek tune that leads off the show…
Playlist for Dave's Lounge #314:
Don't forget to tell me your favorite song from this week's show in the comments below.
Take your place to chill on the go with the Dave's Lounge App, which gives you to streaming access all the latest episodes of Dave's Lounge, plus bonus mixes not available in the podcast, for only $1.99. The Dave's Lounge App is now available for iOS, Android, Windows Phone, and Windows 8.
Enjoy the show!