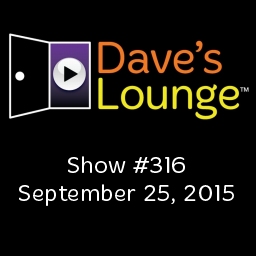 I've always had an appreciation for both a well-written song and a lovely singing voice, which is why I've focused more thorughout the years on vocal tracks rather than instrumental tracks. That comes through even more than usual this week, as I came across a lot of really good songs. Nine of the 12 tracks in this week's playlist are vocal tracks, although even the instrumentals have a melodic feel to them that fit with the rest of the episode. If you appreciate good songs and good singers like I do, this is the episode for you.
Playlist for Dave's Lounge #316:
Don't forget to tell me your favorite song from this week's show in the comments below.
Take your place to chill on the go with the Dave's Lounge App, which gives you to streaming access all the latest episodes of Dave's Lounge, plus bonus mixes not available in the podcast, for only $1.99. The Dave's Lounge App is now available for iOS, Android, and Windows Phone.
Enjoy the show!