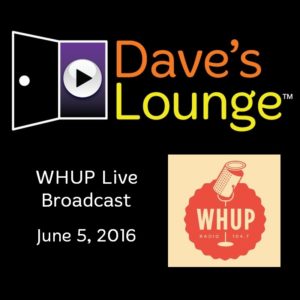 When I said you would be getting the live show "warts and all", I meant it. There were a few moments of operator error in the June 5 broadcast, and for whatever reason, the last five minutes of the show recording didn't make it onto my flash drive. Hopefully, the quality of all the new music this week makes up for this.
Oh, and I threw in a little impromptu mixing at the beginning of the show when I realized that the first set of tunes were all about 105 BPM.
Be sure to tune into WHUP-LP FM 104.7 in Hillsborough, NC, this Sunday at 3:00 PM Eastern Time for an all-new edition of Dave's Lounge.
Playlist for Dave's Lounge On The Radio #9:
(00:14) Lovers and Poets – You + Me In The Summer
(06:54) Pollyn – Too Late To Change The Past
(10:49) Dee C'rell – Sneaky Cold (feat. Neal Stalnaker)
(16:07) KR3TURE + The Human Experience – A Little Deeper (feat. Kelly Koval)
(19:50) Bishop – River
(24:45) Kevin Garrett – Control
(28:41) Kawehi – Pretty Things
(33:01) Vinid and State-V – Belief
(39:13) Submotion Orchestra – Blindspot
(45:53) Natalie Walker – Nothing Lasts Forever
(49:26) Delerium – Monarch
(55:46) Alice Russell – All Alone (Mocean Worker Remix)
(59:13) Thomas Lemmer & Tina Sona – Lost
(1:03:57) Caravan Palace – Wonderland
(1:07:04) Chop Juggler – Tomorrow Night
(1:10:14) Moderator – Trouble
(1:13:58) Midflite – Dance of the Water Lillies
(1:18:22) 10A – The One
(1:22:25) Evadez – L.O.V.E. (Lust Over Violent Empathy)
(1:28:54) Shana Halligan – Illuminate
(1:32:32) Shanghai Restoration Project – Miss Shanghai Revealed
(1:36:24) Anji Bee – Just One Word
(1:40:31) Merge of Equals – My Everything
(1:46:49) Meeke – Delicate (feat. Urias)
(1:50:40) Starviolet – It's No Use