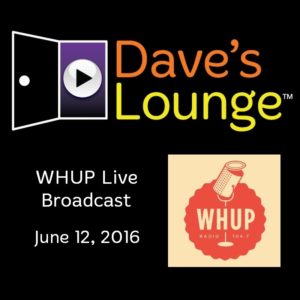 Know how there are some days where you just want to stay home and watch TV? The June 12 show was one of those days for me. I didn't go out and find a whole lot of new music, so I slapped together a catalog show and played it for the radio audience while I sat in the studio and watched the Germany v. Ukraine match on my phone. (Of course, Germany won.)
There's still lots of great music in this show, though, so either ignore or fast forward past my talking for this one.
Be sure to tune into WHUP-LP FM 104.7 in Hillsborough, NC, this Sunday at 3:00 PM Eastern Time for an all-new edition of Dave's Lounge.
Playlist for Dave's Lounge On The Radio #10:
(00:00) January – Where Do You Put Your Heart
(06:55) Rising Appalachia + The Human Experience – Swoon
(10:32) Randy Seidman, Rogerio Jardim, & Tommy Cunningham – It's On My Mind
(13:37) Astronaut Wife – Late Now (Remix)
(17:41) Natalie Walker – With You (Dive Index Remix)
(23:11) Groovecatcher – Intoxicated
(29:36) Merge of Equals – Like An Arrow
(34:14) Two Loons For Tea – Sunset Room
(39:10) Sly – Like Love
(47:06) SoulAvenue feat. Shaheen Sheik – Different
(51:49) Sango – Affection (feat. JMSN)
(55:48) starRo – Touching the Void (feat. Mikezilla)
(1:00:38) Anthony Valadez – Asleep (feat. Anna Wise)
(1:05:52) Arthur Loves Plastic v. Lisa Moscatiello – I Can Dream
(1:08:49) Artemis – Supernatural
(1:13:30) Architect – Immaterial (The Walton Hoax Remix)
(1:18:18) Nanobyte – Part of Life (feat. Mary Lambert)
(1:25:01) Quadraphonic Sound Project – You're Already Gone
(1:32:44) DJ Cam – Uncomfortable (feat. Chris James)
(1:37:35) Ego Ella May – Underwater
(1:40:56) Mouchette – Throw Down
(1:45:55) Pallidust – Meridian
(1:54:15) Marlena Shaw – Woman of the Ghetto (Akshin Alizadeh Remix)