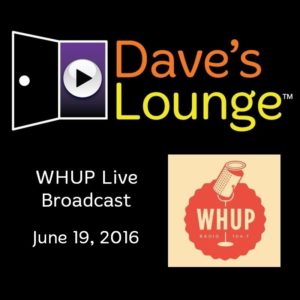 Thanks in no small part to a brand new and epic opening track from Kutiman, the June 19 broadcast features several tunes that aren't particularly electronic, but still made it onto the podcast over the years. There's some electroblues, a little funk, and a bit of acoustic guitar-focused tunes, but it all comes together to make for some great music.
This week's podcast is only one hour, as I played my live set from DJX Fusion Weekend 2014 in the second hour, which has some major label tunes in it. You can stream that set on Mixcloud using the player at the bottom of this post.
Be sure to tune into WHUP-LP FM 104.7 in Hillsborough, NC, this Sunday at 3:00 PM Eastern Time for an all-new edition of Dave's Lounge.
Playlist for Dave's Lounge On The Radio #11:
(00:00) Kutiman – Shine Again
(07:15) Muddy Waters 100 – Mannish Boy
(11:50) Blu Acid – Dust On A Wire
(15:30) Boo Boo Davis – Sorry Baby
(20:54) The Black Seeds – Rotten Apple
(26:03) Alice Russell – Breakdown
(29:47) Kendra Morris – Waiting
(34:40) Slowmo – From A Window
(38:22) Natalie Walker – Uptight
(42:10) Bird York – Remedy
(46:49) Slovo – Killing Me
(54:54) Andreya Triana – Everything That You Never Had Pt. II
Enjoy the show!
First hour:
Dave's Lounge On The Radio #11
Second hour: