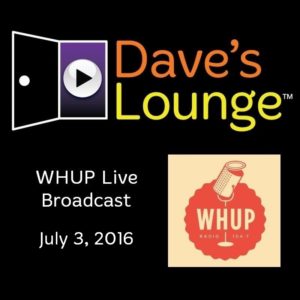 A day before the USA's Independence Day, the July 3 broadcast showcased independent artists and labels — which is nothing new at Dave's Lounge, of course, but it also explained why this show has focused so much on independents, even in an environment where that's no longer 100% necessary. We need independent music now more than ever, if for no other reason than to ensure the artists we love can earn a living without big corporations taking money out of their pockets and using copyright to shut down anyone trying to promote them.
The background music at the top of the show this week is an original creation of mine called "Glider", which I composed and recorded entirely on my iPad mini using Korg Gadget. You can download it here: https://soundcloud.com/tenthkey/glider
Be sure to tune into WHUP-LP FM 104.7 in Hillsborough, NC, this Sunday at 3:00 PM Eastern Time for another edition of Dave's Lounge.
Playlist for the July 3 broadcast:
(00:00) Kawehi – Anthem
(07:37) Peach Stealing Monkeys – It Is Not The Time
(11:57) 46bliss – In A Long Time
(16:16) Science For Girls – 14 Days
(21:59) Hopscotch – Eden
(28:18) Mistake Theory – Shallow
(33:03) Astronaut Wife – Cape Canaveral
(37:34) kikiwest – Past Life
(41:13) Red Delicious – Icon
(47:51) The Human Experience – Dusty Rose (feat. Ayla Nereo)
(52:09) Joshua Wentz – Calm Me Down
(57:09) Dive Index – Water In Our Hands
(1:01:16) Daughter Darling – Sweet Shadows
(1:07:25) Mouchette – Sixer
(1:13:29) Ghosts of Paraguay – Beyond Reasom (feat. Como)
(1:18:10) The Warheads – Dirty Water
(1:21:53) Evil Needle – Worry (feat. JMSN)
(1:25:59) Joey Fehrenbach – Underwander (Little People Remix)
(1:32:12) Submotion Orchestra – Swan Song
(1:36:40) Moshang + Sonya V. – Next In Line
(1:40:19) The Atomica Project – Jetstreams
(1:44:55) Motif – Halo
(1:48:38) Aisth – Holy Palmers
(1:52:49) Essenza – Weightless Smile
Enjoy the show!