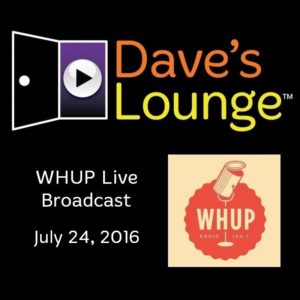 If you've been tuning in to Dave's Lounge on Sunday afternoons, you might have noticed that I've been on a little break lately. That's a good thing, of course; we all need breaks from time to time, if only to recharge our batteries and remind ourselves why we do some of the things we do. It's time now, though, to get back to the music — and my word, are we opening with a hot one, courtesy of one of my favorite hip-hop producers of all time.
The 2nd hour of this week's show featured some of the music I played last week at the DJX Summertime event in Philadelphia. That hour will not be available to podcast subscribers, as it contains some major label music, but you'll be able to stream it on Mixcloud.
Be sure to tune into WHUP-LP FM 104.7 in Hillsborough, NC, this Sunday at 3:00 PM Eastern Time for an all-new edition of Dave's Lounge.
Playlist for Dave's Lounge On The Radio #14:
(00:00) Torii Wolf – 1st
(06:28) MuteMath – Used To
(10:42) Manatee Communie – What We've Got (feat. Flint Eastwood)
(14:47) Sublab & Azaleh – Unify
(18:20) Phaeleh – Afterglow (feat. Soundmouse)
(24:53) Jenova 7 & Eddie Shinn – Intergalactic Noir
(28:45) Souleye – Labeled (ill-esha Remix)
(32:35) Adult Baby – Condensate
(37:00) Templo – Bugs
(41:25) Fade – Energetic
(48:37) Gelka – Million Nights (feat. Phoenix Pearle)
(52:51) Pelorus – Sink or Swim
(58:29) Natalie Walker – Guns Down
Enjoy the show!