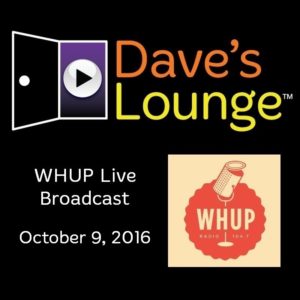 The October 9 broadcast of Dave's Lounge was my first live show back in the WHUP studio in about five weeks. It was also the first time I attempted to do a live Facebook video feed of the show from the studio. Sadly, I could not post that video to the show's Facebook page, thanks to the site's Content ID system flagging a song I played. (And I won't be playing anything from that band anymore on this show, either.) Still, the video chat was fun, and I suspect I might do it again soon.
Tune in to Dave's Lounge every Sunday at 3:00 PM Eastern Time on WHUP-LP FM 104.7 in Hillsborough, or online at: http://whupfm.org/
Playlist for the October 9 broadcast of Dave's Lounge on WHUP:
(00:00) Kawehi – Bloodstream
(07:16) MICHL – Tell Me The Same
(11:06) Big Wild – Invincible (feat. iDA HAWK)
(14:12) Sqz Me, Nori & Ill Chill – Vivid
(17:28) Manatee Commune – Be Still (feat. Marina Price)
(21:59) JANXX – Change
(26:06) Psy'Aviah – Alcubierre Drive (feat. Kyoko Baertsoen)
(30:38) Nina – Beyond Memory
(36:07) Torii Wolf – 1st
(41:13) Torii Wolf – Shadows Crawl
(43:45) Funky Destination – The Ocean Of My Mind
(48:32) Boogie Belgique – Goodnight Moon
(54:07) Poldoore – Midnight In Saigon (feat. Astrid)
(59:50) Captain Supernova – Only One (feat. Jackie Gage)
(1:03:02) KR3TURE + The Human Experience – A Little Deeper (feat. Kelly Koval)
(1:07:34) Rykard – Artificial Sunshine
(1:11:45) Abyssal – Pulsate
(1:16:54) Kin Klave – Mantissa
(1:20:07) Dominik Pointvogl – Ducati Sunset
(1:26:55) Tor – Days Gone
(1:31:17) Thomas Lemmer – Lost (feat. Tina Sona)
(1:34:55) Submotion Orchestra – Red Dress
(1:40:28) Data Romance – Can't Keep Your Mind Off
(1:43:52) Natalie Walker – With You (Dive Index Remix)
(1:48:18) Quadraphonic Sound Project – Hands
Enjoy the show!