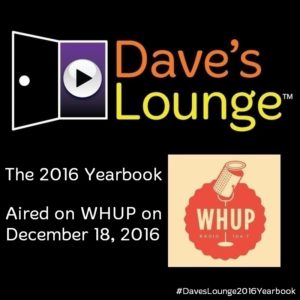 The final radio show of 2016 looks back at the music of this past trip around the sun, finds the tracks that both its host and listeners enjoyed most, and shares them without interruption. For this yearbook, I did my best to include tunes that listeners had mentioned that they really like. I'll try to come up with a better system for listener input next year.
2016 has been a bumpy ride for a lot of us, but it left us some great music along the way. I want to thank all the listeners who stuck around as I moved this show from being a pre-recorded podcast to a live radio broadcast. Dave's Lounge will return to WHUP in 2017. Keep an eye on this web site for more details…
Also, if you'd like to help these artists earn a few extra bucks from their music, click here to stream the 2016 Yearbook playlist on Spotify. (If you want to stream all the 2016 releases I introduced on Dave's Lounge, click here.)
Playlist for the #DavesLounge2016Yearbook:
(00:00) Torii Wolf – 1st
(09:42) Kawehi – Smoke Screens
(14:09) Submotion Orchestra – Red Dress
(18:40) Klangliebe – Fatally Wounded
(23:08) Wax Tailor – For The Worst (feat. IDIL)
(26:57) Janxx – Change
(31:04) Thomas Lemmer – Lost (feat. Tina Sona)
(34:41) Tor – Days Gone
(39:04) Echos – Gold
(43:07) Captain Supernova – Leaving The Past Behind (feat. Laura Mace)
(47:10) Eddie Shinn & Step & Jenova 7 – The Third Is Not Superfluous
(50:45) Michl – Kill Our Way To Heaven
(54:35) Manatee Commune – What We've Got (feat. Flint Eastwood)
(58:41) Boys Noize – Starchild (feat. Polica)
(1:03:00) All India Radio – Can You Hear The Sound
(1:07:06) Nina – Beyond Memory
(1:10:38) The Range – Florida
(1:13:58) Boogie Belgique – Goodnight Moon
(1:18:19) Tom Fall & JES – Come Back (Zetandel Chill Out Mix)
(1:22:04) Nikitch feat. Andreya Triana – When It All Falls Down
(1:26:43) Elliot Moss – Without The Lights
(1:30:48) Chet Porter – Stay (feat. Chelsea Cutler)
(1:34:51) Body Language – Just Let It
(1:39:05) Submotion Orchestra – Empty Love (feat. Ed Thomas)
(1:42:33) DOOXS – Wander
(1:46:58) Della Sol Lounge – Summer Haze
(1:51:12) Fiendsh – Winter In America
(1:57:15) Kutiman – She's A Revolution
Enjoy the show!