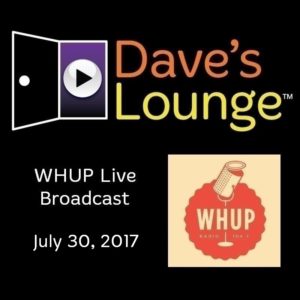 The amount of chill trap I've played on Dave's Lounge has grown over the last few years, so perhaps it's time I acknowledged it a bit more. The July 30 broadcast of Dave's Lounge on WHUP opens with a set of chill trap and some related tunes. From there it leads to some chill instrumentals, and even a bit of electro-blues at the end. If you have enjoyed the evolution of downtempo over the years, you'll love this mix.
Tune into Dave's Lounge every Sunday at 3:00 PM Eastern Time (8:00 PM UTC) on WHUP FM 104.7 in Hillsborough, NC, or stream it online at whupfm.org.
Playlist for the July 30 broadcast of Dave's Lounge on WHUP:
(00:00) Ella Vos – In Your Corner
(04:49) Xie & Virtu – Just Like Me
(07:35) JANEE – What Are You Doing Here (feat. Casey Breves)
(11:30) CHVRN – Secrets
(14:50) Big Wild – When I Get There
(19:32) MissinCat – Mother
(22:34) Idesia – Ain't Over
(25:35) Frameworks – Kings
(29:48) Es-K and Loupo – Nitelites
(34:03) Sly5thAve – Early Morning
(39:29) Polished Chrome – Always You
(43:54) Five Seasons – Sky
(48:18) Sad Radio On Cassini – July
(54:46) Jimmy Reiter – Instinctively Wrong (miXendorp remix)
Enjoy the show!