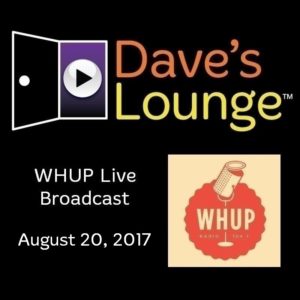 Dave's Lounge has always been a show about getting away from the struggles of everyday life for a while and just enjoying some music. This week, though, I found it pretty hard to get away from current events, especially since one of them happened in my hometown of Durham, NC. So I had a few things to say this week, though for the most part, the music is the message in our mess age. I hope that message comes through to everyone who hears it.
Tune into Dave's Lounge every Sunday at 3:00 PM Eastern Time (8:00 PM UTC) on WHUP FM 104.7 in Hillsborough, NC, or stream it online at whupfm.org.
Playlist for the August 20 broadcast of Dave's Lounge on WHUP:
(00:00) Submotion Orchestra – Blindspot
(09:52) Dive Index – For Centuries
(14:53) Captain Supernova – Leaving the Past Behind (feat. Laura Mace)
(18:56) Alice Russell – All Alone (Mocean Worker Remix)
(22:15) JANXX – Change
(26:21) Motif – Strong (feat. Pamela Nyambo)
(32:12) DJ Sun – Heart Seed (feat. Leah Alvarez)
(36:02) Delerium – Days Turn Into Nights
(41:58) Mindex – Dream Big (feat. Christina Sofina)
(45:03) The Shanghai Restoration Project – Call Me Home
(48:40) Nikitch – When It All Falls Down (feat. Andreya Triana)
(55:26) The Black Seeds – Slingshot
Enjoy the show!