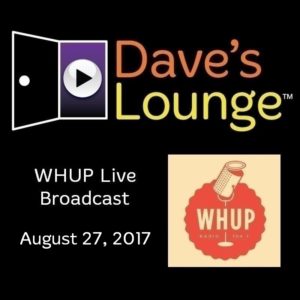 It was a bit of a mad scramble to gather all the music for this week's show, but I managed, and it turned out pretty good. This playlist focuses more on instrumentals as it goes, and it showcases many different styles of downtempo. Because there are lots of different ways to chill.
PROGRAMMING NOTE: I will be taking a few weeks away from Dave's Lounge for Labor Day weekend and my annual pilgrimage to Virginia Beach. WHUP will re-broadcast a couple of the "Diggin' In The Crates" episodes from last year while I'm out. I'll be back in the studio on Sunday, September 17.
Tune into Dave's Lounge every Sunday at 3:00 PM Eastern Time (8:00 PM UTC) on WHUP FM 104.7 in Hillsborough, NC, or stream it online at whupfm.org.
Playlist for the August 27 broadcast of Dave's Lounge on WHUP:
(00:00) Yahtzel – Someone Else (feat. Savoi)
(04:30) Manchita with Bionik – Can't Save You
(08:14) Edamame – Mango Pulp (feat. Ian Ewing)
(12:31) Ficci – Flutter (ft. Laura Hahn)
(16:21) Moonnight & Angel Falls – Love Is the Key (Rayan Myers Remix)
(22:16) Palence – Scarp
(26:00) CherryVata – Debussi (2017)
(31:12) Liminal Drifter – Soothed by Summer (Robwun remix)
(38:32) CHVRN – Tell Me
(41:57) Lemongrass – Mystery Sky
(47:07) Rayan Myers – Equilibrium
(56:30) Tourist – We Stayed Up All Night (feat. Ardyn)
Enjoy the show!