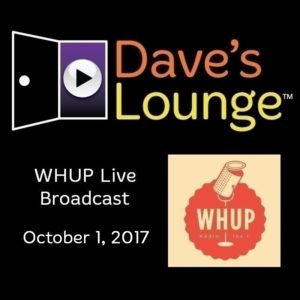 The October 1 broadcast of Dave's Lounge naturally divided itself into four-song sets of different styles — one alt-pop set, one chill instrumental set, and one slightly more eclectic beat-oriented set, bookended by a couple of very chill tunes. If you enjoy this show because of all the different styles of music you hear on it, you'll really like this one.
Tune into Dave's Lounge every Sunday at 3:00 PM Eastern Time (8:00 PM UTC) on WHUP FM 104.7 in Hillsborough, NC, or stream it online at whupfm.org.
Playlist for the October 1 broadcast of Dave's Lounge on WHUP:
(00:00) Groovecatcher – X Communication
(07:05) Torii Wolf – Big Big Trouble
(10:13) Little Good Bad – No Regrets
(13:43) Love Sick – Bullet
(17:14) Andrew Applepie & Bjurman – Waltz of Despair
(22:12) Sublab & Azaleh – Auquila
(25:43) nExow – Garden of Love
(29:56) Dreaming Cooper – Abstract
(33:59) Boot Cut Rockers – Angeldust
(40:44) Werkha – So London
(44:40) She's Excited! – Round (Deep-Chill-Mix)
(47:42) Mute Speaker – The Hard Cell
(51:02) Brandon* – Rio Dio
(56:37) Dreaming Way – A Little While (feat. Angel Falls)
Enjoy the show!