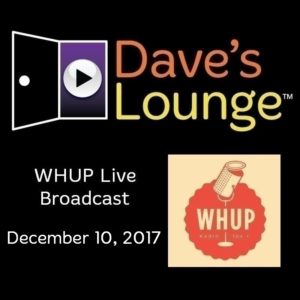 With only the 2017 Yearbook left, I decided to use this episode to do one last sweep of my inbox for new releases, then play some favorites from many of the bands that I've developed such great relationships with over the years. I wouldn't dare call it a retrospective, because it's impossible to fit 12 ½ years of music into a hour, but it's a fine cross-section of music that I hope all of you have enjoyed during my time in doing this show.
Tune into the Dave's Lounge 2017 Yearbook on Sunday, December 17, at 3:00 PM Eastern Time (8:00 PM UTC) on WHUP FM 104.7 in Hillsborough, NC, or stream it online at whupfm.org.
Playlist for the December 10 broadcast of Dave's Lounge on WHUP:
(00:00) Natalie Walker – Nothing Lasts Forever
(06:12) Uppermost – Step By Step (feat. Sora)
(09:47) Daktyl – Monochrome (feat. MOONZz)
(12:45) Darwin – Lost
(16:26) Josh One – Again (feat. Love Jefferson)
(22:30) AVEC – Waiting For (Alex Schulz Remix)
(25:47) Tempo Giusto & Gabriel Thomas – Break Free feat. Catie Leta (Iris Dee Jay Remix)
(29:31) Polished Chrome – Deep Space (Randy Seidman & Ohmanac Remix)
(34:20) Wax Tailor – My Burn (Kognitif Remix feat. Sara Genn)
(39:11) Boris Carloff – Hope
(43:09) Black Needle Noise – System Bi feat. Fakeba
(48:22) Kllo – Downfall
(53:12) Madison Park & Groovecatcher – Send Me An Angel
(59:35) Karmacoda – Epic
(1:05:15) Artemis – Subterranean (Hidden Kisses Mix)
(1:10:30) Kawehi – Like Her
(1:15:24) Dive Index – Between Sky and Sea (feat. Natalie Walker)
(1:19:53) Submotion Orchestra – Trust/Lust
(1:26:13) Wendy and Lisa – Balloon
(1:30:28) Alice Russell – I'm The Man That Will Find You
(1:34:40) Steve Kilbey & Martin Kennedy – Maybe Soon
(1:40:29) The Black Seeds – Slingshot
(1:45:49) Tal M. Klein – Don't
(1:50:10) Anji Bee – Just One Word
(1:56:01) Motif – One More Time
Enjoy the show!