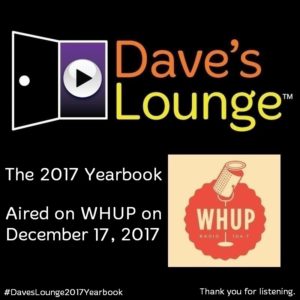 Here it is! The final Dave's Lounge podcast, a look back at the trip around the sun that was, and music that made an impact on us along the way, with a few parting thoughts at the top of the show, as is tradition with the Yearbook episodes.
The Dave's Lounge podcast might be going away, but that doesn't mean I'm going away. Keep an eye on the DavesLounge.com site, which contains links to my social media feeds, my Mixcloud channel, and the playlists I've created on Spotify.
Thanks to Bob Burtman and the staff at WHUP for being so welcoming of this show for the last two years, and best of luck to all the staff and DJs here. Support community radio wherever you are, and support your favorite indie musicians and podcasts whenever you can.
Playlist for the Dave's Lounge 2017 Yearbook:
(00:26) Akshin Alizadeh – Thunder Blues
(08:21) Big Wild – When I Get There
(11:56) Rinngs – Oceans
(16:02) So Below – Sleep
(19:54) Wolffe – Shoot You Down
(23:43) CLAVVS – Silver Tongue
(27:44) Elliot Moss – 99
(31:47) Said The Sky – Show & Tell (feat. Claire Ridgely)
(34:50) Kaleida – Echo Saw You
(39:14) Honors – Over
(43:36) DJ T-Rock & Squashy Nice – Word Usage
(47:17) Torii Wolf – Big Big Trouble
(50:25) Yahtzel – Someone Else (feat. Savoi)
(53:27) Finding Hope – Love
(57:41) Kidswaste & Manila Killa – Tonight
(1:01:15) Ella Vos – In Your Corner
(1:04:32) Edamame – Mango Pulp (feat. Ian Ewing)
(1:08:49) Uppermost – Step By Step (feat. Sora)
(1:12:25) The Human Experience – Broken Open (feat. Michael Travis + Kat Factor)
(1:17:28) Ki:Theory – Walkin' After Midnight (feat. Maura Davis)
(1:20:37) TOKiMONSTA – Early To Dawn (feat. Selah Sue)
(1:24:11) JANXX – High Horse
(1:29:12) Kawehi – GGUU
(1:32:28) Josh One – Wrong Way (feat. Shana Halligan)
(1:35:56) Moonnight & Angel Falls – Love Is the Key (Rayan Myers Remix)
(1:40:48) Harleighblu X Starkiller – Save Me
(1:44:12) Ruby Wood – Unconditional
(1:48:42) RYDER – Nirvana
(1:52:16) Brandon* – A Silent Goodbye
Thanks to all of you for stopping by for the last 12 ½ years. I'll see y'all somewhere down the road.