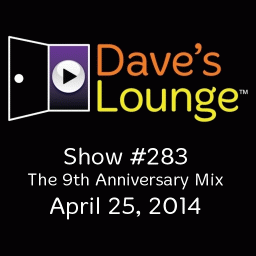 Nine years.
Sometimes I can't believe I've been doing this podcast for nine years. I told myself long ago that when this show starts to feel like work, I'll let it go and move on to something else. But even lately, when it has felt like work, I can't seem to let it go, and I'm not sure why.
Maybe in the back of my mind, I still believe this will show open doors, lead to bigger and better things. (It certainly has in the past.) Maybe I just want to get to the 10-year anniversary. Or maybe I just love this music too much, and want to keep sharing it with all of you, and anyone else who would listen.
This week, I could use your help with that. Please share this episode with all your friends. Post it on Facebook, Twitter, Tumblr, and other social media sites. Copy it to CD-Rs and thumb drives and memory cards and give them away. This episode, like all episodes of Dave's Lounge, is released under a Creative Commons license, so it's meant to be shared. I thank you, and the musicians who make this incredible music thank you, too.
Here's to nine years… Crikey, what could I possibly do for the tenth anniversary?
Playlist for Dave's Lounge #283:
Don't forget to share this episode with all your friends!
Take your place to chill on the go with the Dave's Lounge App, which gives you to streaming access all the latest episodes of Dave's Lounge, plus bonus mixes not available in the podcast, for only $1.99. The Dave's Lounge App is now available for iOS, Android, Windows Phone, and Windows 8.
Enjoy the show!