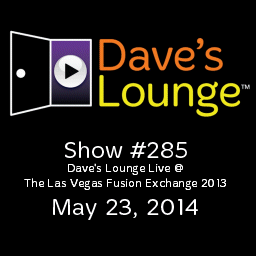 Last January, I was a guest DJ at the Denver Fusion Exchange. Lots of dancers complimented me on my music selection, even though the energy in the room dissipated after 1:00 AM when the organizers announced late-night food was being served. That same weekend, Bay Area DJ A'lan Abruzzo, a/k/a djTRTL, raised the bar for fusion dance sets with his "Heart Set", which quickly became one of the most memorable hours of the weekend.
He released the audio from that set on SoundClound last week. Click here to listen to it.
With that in mind, this week I wanted to share the set I played a year earlier at the Las Vegas Fusion Exchange. It took me a while to understand how the music I played on Dave's Lounge could be considered "dance music", but in the end, it all depends on how you want to dance…
Playlist:
Take your place to chill on the go with the Dave's Lounge App, which gives you to streaming access all the latest episodes of Dave's Lounge, plus bonus mixes not available in the podcast, for only $1.99. The Dave's Lounge App is now available for iOS, Android, Windows Phone, and Windows 8.
New music next show. Promise. Enjoy!