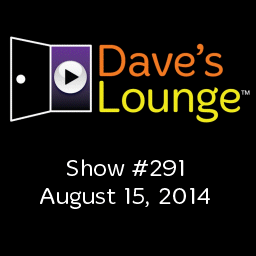 This week, we're venturing into a variety of different styles, from straight-forward pop tunes to R&B to dubstep to latin-influenced music, and even a bit of spoken poetry to cap it off. Downtempo electronic music continues to evolve into new forms and absorb influences from all over the globe, and it's all on display in this week's mix.
Also, anyone who releases a song called "Time Will Wait" just ahead of the new season premiere of Doctor Who is a bloody genius. That is all.
Playlist for Dave's Lounge #291:
Don't forget to tell me your favorite song from this week's show in the comments below!
Take your place to chill on the go with the Dave's Lounge App, which gives you to streaming access all the latest episodes of Dave's Lounge, plus bonus mixes not available in the podcast, for only $1.99. The Dave's Lounge App is now available for iOS, Android, Windows Phone, and Windows 8.
Enjoy the show!