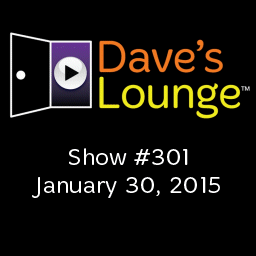 I know I left everyone waiting a while for this one, but I think you'll find this first episode of 2015 was worth the wait — especially the part about the brand new Natalie Walker single that leads off this week's show and is out now on iTunes. You'll be hearing more from her new album in the coming weeks. You'll also hear more from Submotion Orchestra this week, along with a bunch of new releases to kick off the year.
Also, I'm trying a slightly different format for the show this year, in which I'm announcing each song after it plays, rather than before. Let me know if you like the change in the comments below.
Playlist for Dave's Lounge #301:
Don't forget to tell me your favorite song from this week's show in the comments below!
Take your place to chill on the go with the Dave's Lounge App, which gives you to streaming access all the latest episodes of Dave's Lounge, plus bonus mixes not available in the podcast, for only $1.99. The Dave's Lounge App is now available for iOS, Android, Windows Phone, and Windows 8.
Enjoy the show!