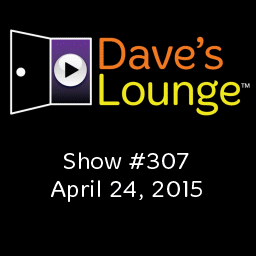 If you've been listening to this show for a while, you might notice that I don't say anything right at the start of the show anymore. One of the biggest reasons for that has been a lack of new things to say. Coming up with quality intro lines that I haven't used before eventually got to be difficult enough that I eventually decided it might be best to let the music carry the introduction. Good thing I've got a tune that can do just that this week.
You'll also notice I didn't say much about the next episode, which will be the 10th anniversary mix. It was that hectic around these parts this week. I still haven't figured out what to do with that mix yet. Hopefully it will come to me soon…
Playlist for Dave's Lounge #307:
Don't forget to tell me your favorite song from this week's show in the comments below!
This episode is sponsored in part by Lynda.com, the online learning site with thousands of video courses that can help you learn new tech, business, and creative skills. Sign up for a 10-day unlimited free trial at lynda.com/lounge.
Take your place to chill on the go with the Dave's Lounge App, which gives you to streaming access all the latest episodes of Dave's Lounge, plus bonus mixes not available in the podcast, for only $1.99. The Dave's Lounge App is now available for iOS, Android, Windows Phone, and Windows 8.
Enjoy the show!