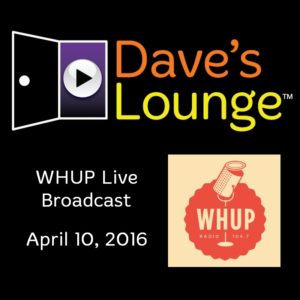 Here it is: my first radio show in more than two decades!
This is the official WHUP recording of the broadcast from April 10, 2016. All the music in this first radio show is either podsafe or has been played with permission from the artists or labels in the past. That won't be the case for all future episodes. However, I intend to continue distributing what parts of the show I can via this podcast feed in the future.
Either way, full episodes will be available on WHUP's page for Dave's Lounge and on Mixcloud.
Playlist for April 10, 2016:
(00:00) Intro
(00:32) Evil Needle – Worry (feat JMSN)
(06:19) Natalie Walker – Mars
(10:08) Submotion Orchestra – Empty Love (feat. Ed Thomas)
(13:36) ODESZA – Light (feat. Little Dragon)
(17:44) Kawehi – Like Her
(24:37) Artemis – Auralei
(29:47) Alice Russell – I'm The Man That Will Find You
(33:56) Pixel Fix – Fall (The Walton Hoax Remix)
(39:33) Salt of the Sound – Did You Hear It?
(42:49) David Keogh – Endless Winter
(46:32) Bonobo – First Fires (feat. Grey Reverend)
(51:09) Fauxliage – All The World
(56:32) Gavin Turek & TOKiMONSTA – Hemisphere
(1:00:05) Colorpulse – The Real You
(1:02:53) Jan Amit – Heal (Ficci and Laura Hahn Remix)
(1:06:04) The Grooveblaster – Southern Heat (feat. Anji Bee)
(1:11:37) Thomas Lemmer – Is It Too Late (feat. Lena Belgarde)
(1:16:35) Captain Supernova – Leaving The Past Behind (feat. Laura Mace)
(1:20:40) Shana Halligan – Something Real
(1:23:57) Lal Meri – Bad Things
(1:30:08) Joshua Wentz – Calm Me Down
(1:35:01) JES & Cold Blue & Dennis Sheperd – Runaway (Zetandel Blue Remix)
(1:38:56) san.drine – Not Around
(1:43:03) Dive Index – Counting Umbrellas
(1:47:43) Emily Underhill – Dreamcatcher
(1:55:11) The Human Experience – Dusted Compass (feat. Lila Rose)
Be sure to tune in every Sunday at 3:00 PM Eastern — that's 8:00 PM London and Lisbon, 9:00 PM in Barcelona and Berlin — to hear Dave's Lounge on WHUP!