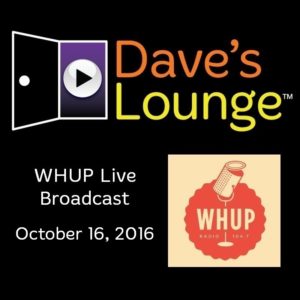 A few notes about the October 16 broadcast of Dave's Lounge on WHUP:
1.) For whatever reason, my iPad hung up on that Wax Tailor track and would not play it all the way through. For the podcast edition of the show, I've fixed that and included the entire song. I'll likely play that song again in a few weeks after a bit of testing.
2.) This was the second show I recorded while doing a live video on the show's Facebook page. These videos seem to be popular, so I suspect I'll do them again soon. You can check out the video of the show here: https://www.facebook.com/davesloungepodcast/
Tune in to Dave's Lounge every Sunday at 3:00 PM Eastern Time on WHUP-LP FM 104.7 in Hillsborough, or online at: http://whupfm.org/
Playlist for the October 16 broadcast of Dave's Lounge on WHUP:
(00:00) Mark Khoen – The Morning Air (Chillout Mix)
(11:06) Pillowfight – In The Afternoon
(15:34) Got A Girl – Heavenly
(19:27) Mimi Page – Gravity
(22:29) GhostSoul – Burning Lungs (feat. Melody Myla)
(27:11) Motif – Strong (feat. Pamela Nyambo)
(33:07) Wax Tailor – For The Worst (feat. IDIL)
(36:56) Boogie Belgique – Happening Again
(41:35) mister T. – Woodblocks
(45:47) Akshin Alizadeh – Southern Man
(50:48) Shana Halligan – Something Real
(54:05) Submotion Orchestra – Empty Love (feat. Ed Thomas)
(57:42) Dive Index – Counting Umbrellas
(1:03:27) Adam Byrd – Without You (Aleksy Beloozerov)
(1:09:20) Motorcycle (feat. JES) – As The Rush Comes (Bryan Milton & Rayan Myers Remix)
(1:14:30) Hugo Kant – Gold (feat. Astrid Engberg)
(1:19:00) Meeke – Gold (feat. Urias)
(1:24:10) Artemis – Creation
(1:28:56) san.drine – Les Larmes d'Isis
(1:33:10) DJ Unwind – Mannequin
(1:37:33) starRo – Can't Get You Out Of My Mind (feat. Alcordo)
(1:42:29) Lovers and Poets – Only Bitterness Remains
(1:47:24) Sango – Affection (feat. JMSN)
(1:51:18) The Atomica Project – The Beauty
(1:55:25) Mr. Echo & Jenova 7 – Born To Be Blue
Enjoy the show!