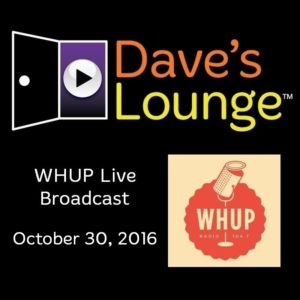 While I have always tried to keep Dave's Lounge focused on electronic music, I've always had an appreciation for a well-written pop tune. That usually plays itself out in my selections for this show. For the October 30 broadcast of Dave's Lounge on WHUP, I decided to put together a set of "pop exceptions" — songs that aren't necessarily electronic, but still manage to fit in well with the music I've played and promoted over the years.
Because good music deserves to be heard, no matter what the genre.
Tune in to Dave's Lounge every Sunday at 3:00 PM Eastern Time on WHUP-LP FM 104.7 in Hillsborough, or online at: http://whupfm.org/
Playlist for the October 30 broadcast of Dave's Lounge on WHUP:
(00:32) Wax Tailor – For The Worst (feat. IDIL)
(05:23) Wax Tailor – My Burn (feat. Sara Genn)
(09:04) Pional – The Way That You Like (feat. Empress Of)
(12:49) Nikitch – When It All Falls Down (feat. Andreya Triana)
(17:28) Pusher – Clear (feat. Mothica)
(21:21) Echos – Take
(26:16) Mika Hary – When Morning Comes
(29:12) Under – Under
(33:57) Steve Kilbey & Martin Kennedy – Maybe Soon
(37:24) Jo Hamilton – Think of Me
(41:09) Jennings – Doorway
(44:34) Kyler England – Battle Cry
(48:26) Natalie Walker – Empty Road
(54:22) The Range – Superimpose
(57:04) MICHL – Gone
(1:00:03) Jay Daniel – Paradise Valley (Radio Edit)
(1:04:02) NoMosk & Christina Novelli & Roman Messer – Lost Soul (R.I.B Chillout Remix)
(1:10:13) Cambis & Florzinho – Bot Parast
(1:16:04) Funky Destination – Havana
(1:20:40) Will Magid – The Crown (Smoked Out Soul Remix)
(1:25:31) RJD2 – Your Nostalgic Heart and Lung
(1:31:38) Templo – Slither
(1:35:45) Normandie – Moon And Sun
(1:42:51) Sine – Full Moon
(1:49:00) Slavian – Kisa
(1:56:30) Captain Supernova – Leaving The Past Behind (feat. Laura Mace)
Enjoy the show!