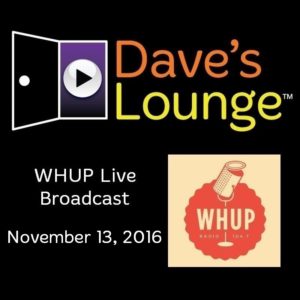 Just because I took off for Charleston, SC, for a DJ gig didn't mean I was going to leave you empty-handed.
The November 13 broadcast is another deep dive into the archives of the Dave's Lounge podcast, featuring some songs I've played several times before and some even I forgot I had played. Echoing the late, great Prince, "If it was good then, it's still good."
Tune in to Dave's Lounge every Sunday at 3:00 PM Eastern Time on WHUP-LP FM 104.7 in Hillsborough, or online at: http://whupfm.org/
Playlist for the November broadcast of Dave's Lounge on WHUP:
(00:00) The Disco Builders – Don't Look Back
(04:46) Deeper Sublime, MoVoX, and Marga Sol – Noname Story
(09:46) Sutro – Temptress (Tyler Stone's Forbidden Fruit Mix)
(14:48) Moto – She's Everywhere
(20:30) Christian Erickson – Away Too Long
(24:33) Samantha James – Amber Sky
(28:43) Ambray – Roads
(33:09) Vanessa Daou – Heart of Wax
(37:49) Kutiman – Bango Fieldss
(41:45) Dive Index – Sole Fisherman (The Album Leaf Remix)
(46:04) Favard – Wait For Me
(51:37) Firefox AK – The River
(55:42) Sarah Fimm – White Birds
(1:00:32) Lal Meri – Borders
(1:04:03) Jane Silence – In Between
(1:08:35) Soul Avenue – One by One (feat. Shaheen Sheik)
(1:12:47) Merge of Equals – Like an Arrow
(1:17:23) Magic Waves – Algo Nuevo (feat. Debora Vilchez)
(1:23:49) The Shanghai Restoration Project – dark HORSE (feat. Hooshere)
(1:28:09) Astronauts of Antiquity – Soup de Jour
(1:33:22) Evokateur – Space
(1:38:08) Sunburn in Cyprus – Your Smile (Sodapop Remix by Modo Azul)
(1:43:50) Adam Fielding – Busy Lives
(1:53:47) J .Boogie's Dubtronic Science – Together (Crazy P Remix Edit feat. Jennifer Johns)
Enjoy the show!