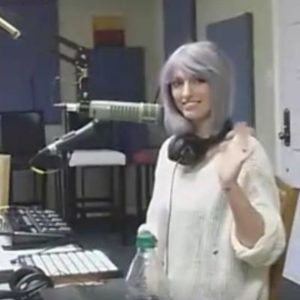 While I've done plenty of shows that featured one artist's music, I had never done a show where an artist performed live — until now!
For the November 6 broadcast, Durham-based musician Janxx stopped by the studio to perform several of her tunes and talk about how she got into electronic music, and how she approaches it. WHUP prides itself on having more live music on air than any radio station in the country, and I'm glad to have contributed my part to that claim. It was a lot of fun, and I hope to do it again soon. (Call me next time you're in town, Kawehi!)
The second hour of the show was almost entirely listener requests from the live Facebook video that accompanied the show. You can watch that video here: https://www.facebook.com/davesloungepodcast/videos/10154727370098885/
Tune in to Dave's Lounge every Sunday at 3:00 PM Eastern Time on WHUP-LP FM 104.7 in Hillsborough, or online at: http://whupfm.org/
Playlist for the November 6 broadcast of Dave's Lounge on WHUP:
(00:33) Janxx – Change
(10:13) Janxx – Fool's Gold
(18:09) Janxx – Beat Down
(24:55) Janxx – Miss Elevator
(35:44) Janxx – Everybody Else
(42:07) Kawehi – Anthem
(46:18) Ayla Nereo – Show Yourself
(51:12) Submotion Orchestra – In Gold
(54:46) Karmacoda – We Don't Have A Lot Of Time
(58:25) Dive Index – Between Sky And Sea (feat. Natalie Walker)
(1:04:21) The Shanghai Restoration Project – Preface
(1:07:04) Science For Girls – 14 Days
(1:12:46) Joshua Wentz – Calm Me Down
(1:17:38) Pillowfight – Rain
(1:22:24) Boogie Belgique – Goodnight Moon
(1:26:47) Lemongrass – Cho-Cho
(1:30:51) Manatee Commune – The Garden Song (feat. Moorea Masa)
(1:33:45) Artemis – Sync Or Swim
(1:39:28) Karmacoda – Turn
(1:44:29) Kawehi – Pretty Things
(1:48:49) Alice Russell – I'm The Man That Will Find You
(1:54:36) Quadraphonic Sound Project – You're Already Gone
Enjoy the show!