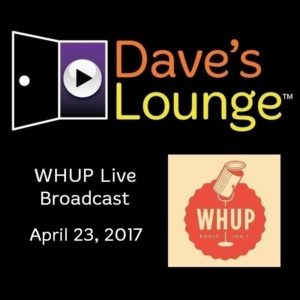 This week was Begathon Week at WHUP, the week where all the station's hosts remind listeners that we're a simple community radio station running on a shoestring budget, and we need your support to stay on the air. Mixing that message in with two hours of listener favorites from the last 12 years of Dave's Lounge seemed like a good idea.
If you're able to contribute, go to WHUPfm.org and click on the CONTRIBUTE button. All your donations are tax-deductible, and we don't use your personal info for any other purpose except to thank you for helping us out.
Tune into Dave's Lounge every Sunday at 3:00 PM Eastern Time (8:00 PM UTC) on WHUP FM 104.7 in Hillsborough, NC, or stream it online at whupfm.org.
Playlist for the April 23 broadcast of Dave's Lounge on WHUP:
(00:00) Danny K – Speech
(06:50) Natalie Walker – Uptight (Spark)
(10:40) Artemis – Fountain of Life (Gravity)
(14:00) Submotion Orchestra – Trust/Lust (Alium)
(18:21) Dive Index – Love Like Ghosts (The Surface We Divide)
(24:51) Torii Wolf – 1st
(29:14) Poldoore – Cali Sun
(33:27) Boogie Belgique – Goodnight Moon (Volta)
(38:00) The Grooveblaster – Southern Heat (feat. Anji Bee)
(43:42) The Human Experience – Dusted Compass (feat. Lila Rose)
(47:54) Mudville – Blown (AJ Nuttal Remix)
(52:00) Kawehi – Bloodstream
(57:07) Karmacoda – Epic
(1:03:58) Evil Needle – Worry (feat. JMSN)
(1:08:03) Elliot Moss – Closedloop
(1:12:42) Nikitch – When It All Falls Down (feat. Andreya Triana)
(1:17:22) Alice Russell – I'm The Man That Will Find You
(1:22:46) Tang Kai – I Will Lead You Home
(1:27:57) San.drine – Les Larmes d'Isis
(1:32:10) DOOXS – Wander
(1:37:28) Wølffe – Shoot You Down
(1:41:20) CLAVVS – Silver Tongue
(1:45:20) Submotion Orchestra – Empty Love (feat. Ed Thomas)
(1:48:49) Motif – One More Time (feat. Naemi Joy)
(1:53:16) Mark Khoen – The Morning Air (Downtempo Mix)
Enjoy the show!