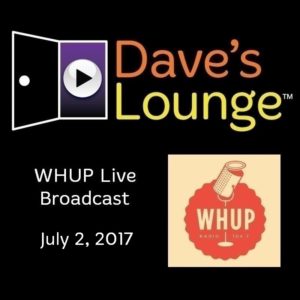 As was the case last year, this year's Independence Day weekend show celebrates musicians who release their music independently, with no backing from a record label, major or otherwise. The internet has allowed musicians the opportunity to connect with fans directly, and those fans are finding the musicians they like and supporting them. Many artists featured on Dave's Lounge fall into this category, so let's take a moment to celebrate the fact that this is even possible today.
Tune into Dave's Lounge every Sunday at 3:00 PM Eastern Time (8:00 PM UTC) on WHUP FM 104.7 in Hillsborough, NC, or stream it online at whupfm.org.
Playlist for the July 2 broadcast of Dave's Lounge on WHUP:
(00:00) All India Radio – Persist (2014 Remix)
(06:30) JANXX – High Horse
(11:29) Kawehi – Like Her
(16:21) CLAVVS – Silver Tongue
(20:21) Tusks – Toronto
(25:09) kikiwest – Hard 2 Believe
(29:49) Atomica Project – Salt
(33:42) Beauty's Confusion – The Wrong Way
(38:23) Hopscotch – Osaka Dub
(44:39) Terracotta Blue – Andromeda Girl
(48:16) Tal M. Klein – Lo-Fi High
(53:57) Stockfinster – Seventeen Days
(59:34) Lovespirals – Walk Away (Bitstream Dream Remix)
(1:04:18) Wolffe – Shoot You Down
(1:08:09) The Shanghai Restoration Project – Call Me Home
(1:11:45) Tang Kai – I Will Lead You Home
(1:16:58) Karmacoda – Love Will Turn Your Head Around (feat. Anji Bee & Beth Hirsch)
(1:25:15) Mouchette – Throw Down
(1:30:11) Artemis – Here And Now (Colfax Remix)
(1:34:30) palliDust – Temptation
(1:39:10) The Human Experience – Broken Open
(1:45:41) Christian Erickson – Away Too Long
(1:49:30) Salt Of The Sound – Did You Hear It
(1:54:21) Mr. Meeble – I Fell Through
Enjoy the show!