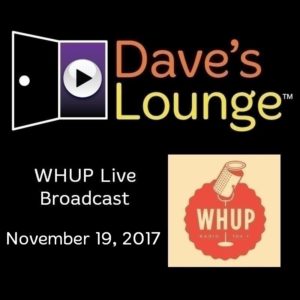 For the November 19 broadcast of Dave's Lounge on WHUP, I take a look back at my trip to DJX Fusion Weekend in Philadelphia and one of the most interesting DJ experiments I've ever experienced. If you missed the full broadcast, you can hear my live 2:00 AM mix from that weekend on the Dave's Lounge Mixcloud page. The podcast edition does feature one newly discovered track that made it into that mix, plus a whole lot of new releases that I'm sure you'll enjoy.
Tune into Dave's Lounge every Sunday at 3:00 PM Eastern Time (8:00 PM UTC) on WHUP FM 104.7 in Hillsborough, NC, or stream it online at whupfm.org.
Playlist for the November 19 broadcast of Dave's Lounge on WHUP:
(00:00) So Below – Sleep
(07:51) Josh One – Wrong Way (feat. Shana Halligan)
(11:18) TOKiMONSTA – Early To Dawn (feat. Selah Sue)
(14:53) Kidswaste & Manila Killa – Tonight
(18:17) The Seshen – Spectacle
(22:56) Crystal Radio – Cleopatra Hill
(27:12) ID3 feat. L3aMeduza – DMT
(29:55) SCERE – Because I
(34:30) CLAVVS – Like Daggers
(39:55) Boogie Belgique – Every Time
(43:54) Caroline – Forbidden World (Evgeny Seleznev Remix)
(47:00) Kasstedy – Dream of You
(55:29) A-Mase & Stash & Spider – Inspiration (Breaks Mix)
Enjoy the show!