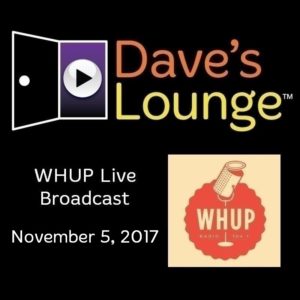 I'm not a fan of Daylight Standard Time. It gets dark far too soon during these cold months, and it disrupts everyone's sleep schedule. I would like the governments of this planet to pick a time zone and leave it alone. This needless disruption won't stop me from delivering some new music to you this week…
Tune into Dave's Lounge every Sunday at 3:00 PM Eastern Time (8:00 PM UTC) on WHUP FM 104.7 in Hillsborough, NC, or stream it online at whupfm.org.
Playlist for the November 5 broadcast of Dave's Lounge on WHUP:
(00:00) Placid Larry – Wurlie Alarm
(05:36) Narrow Skies – I Want The Wind To Carry Me (Delectatio Remix)
(09:37) Finding Hope – Love
(13:55) Suffer The Children – Someone To Lose
(19:04) Kaleida – Tear The Roots
(25:03) Evil Needle – Light It Up (feat. Aleisha Lee)
(28:47) Will Magid – Set Me Free (Zebuel Remix)
(32:11) Saib – Archipelago
(35:47) Terracotta Blue – Zero G Inferno
(40:18) Kasbo – Bleed It Out (feat. Nea)
(43:50) Giraffage – 19 Hours (ft. Harrison Lipton)
(47:34) CLAVVS – Sit You Down
(51:03) Able8 – Prisoner (feat. Melody Myla)
(55:59) Lorne – Bread Alone (BOA Remix)
Enjoy the show!