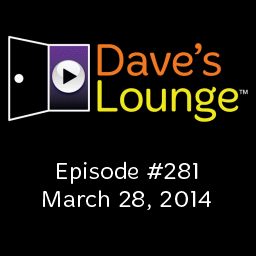 Every so often, when I'm trying to put together a mix that just isn't working, I tell myself I'm going to shove these tracks to the side, dig up a bunch of songs from the Dave's Lounge back catalog, and play those songs instead. Most of the time, that feeling subsides, and I play the new stuff instead. This week? It actually happened. If you're new to Dave's Lounge, here's a taste of what you've been missing over the years…
Playlist for Dave's Lounge #281:
Just a heads up: These are all previously played tracks, so they aren't eligible for the 2014 Yearbook. But go ahead and leave your favorite songs in the comments if you like.
Take your place to chill on the go with the Dave's Lounge App, which gives you to streaming access all the latest episodes of Dave's Lounge, plus bonus mixes not available in the podcast, for only $1.99. The Dave's Lounge App is now available for iOS, Android, Windows Phone, and Windows 8.
Enjoy the show!