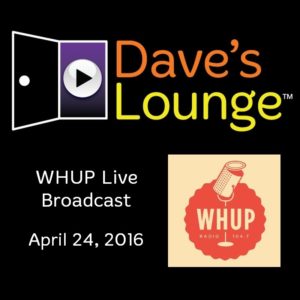 As a life-long Prince fan, I had always hoped he would soften up his anti-internet stance and allow podcasters the opportunity to play at least one of his songs. Alas, that never happened. Thankfully, two of his most famous protégés, Wendy & Lisa, did make a song from their self-released 2008 album "White Flags Of Winter Chimneys" available to podcasters. I jumped at the chance to play it then, and it makes a fitting tribute now to the man who launched their career.
This is also the first radio show that features new music, including the latest from All India Radio, Poldoore, and Boys Noize.
(00:00) Intro
(00:14) Wendy & Lisa, "Balloon"
(07:42) Kawehi, "Smoke Screens"
(12:09) Klangliebe, "Fatally Wounded"
(16:42) Halou, "Honeythief"
(19:49) Motif, "Strong (feat. Pamela Nyambo)"
(25:28) Submotion Orchestra, "Red Dress"
(30:00) Merge of Equals, "Home"
(34:32) Karmacoda, "Epic"
(39:12) Poldoore, "Midnight in Saigon (feat. Astrid)"
(46:03) Captain Supernova, "Only One (feat. Jackie Gage)"
(49:19) Deeper Sublime, "Hold My Hand"
(52:39) Got A Girl, "I'll Never Hold You Back"
(57:50) Triangle Sun, "When The Rain Comes Falling Down"
(1:01:36) All India Radio, "Can You Hear The Sound"
(1:05:55) Boys Noize feat. Poliça, "Star Child"
(1:10:09) The Stone Bird, "Ice Walls"
(1:13:52) Tang Kai, "I Will Lead You Home"
(1:20:36) Science for Girls, "Northern Lights"
(1:26:16) Ambray, "Sails"
(1:30:45) Thomas Lemmer, "Forever (feat. Naemi Joy)"
(1:37:02) Litany, "Look"
(1:40:58) Natalie Walker, "Faith"
(1:44:27) Villablue, "If I Could Tell You"
(1:49:10) Ficci, "Wish (feat. LaMeduza)"
(1:56:37) Louis Futon, "Wasted On You (feat. ROZES)"
The next radio broadcast will celebrate the 11th anniversary of the launch of the Dave's Lounge podcast. I've got something special planned for this one, and not all of it will make it to the podcast feed, so tune in to Dave's Lounge on WHUP-LP FM next Sunday at 3:00 PM ET! (1900 UTC) to hear it all!