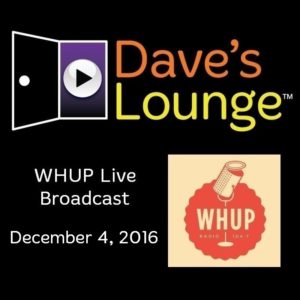 When I first started doing the radio show in the spring, it was still light outside when I left the station. Now that winter and the dreaded Daylight Standard Time are upon us, it's dark outside when the show is over. I accept that this is how it is in the winter time. I'm still not a fan.
This week's show opens with a song for winter and continues with a mix of brand new instrumentals and a few other really good songs from throughout the year. I hope I'm not spoiling the yearbook for everyone by doing that…
Tune in to Dave's Lounge every Sunday at 3:00 PM Eastern Time on WHUP-LP FM 104.7 in Hillsborough, or online at: http://whupfm.org/
Playlist for the December 4 broadcast of Dave's Lounge on WHUP:
(00:00) Karmacoda – Song For A Winter's Night
(06:10) Submotion Orchestra – More Than This (feat. Billy Boothroyd)
(11:17) Catching Flies – Komorebi
(15:08) Cortel – One Word
(18:56) Fakear – First Sights
(24:32) Tor – Aura Love
(28:41) 2Pas0s – Hypnosis
(32:12) Konformat – Never Let Me Go
(34:54) Alexander Volosnikov – Sometimes It's Better To Keep Silent
(39:17) Dominik Pointvogl – Coral Suite
(47:06) Klangliebe – Fatally Wounded
(51:39) I'm From Finland – Young Love
(56:27) The Seshen – The Fall
(1:00:27) Kawehi – Smoke Screens
(1:05:52) Lo Tide – He's Coming Closer (feat. Sarah Shamash)
(1:09:10) Colors of Melancholia – sixtythree
(1:12:25) Retalho – Direção
(1:17:54) Skogursson – Morning Be Good
(1:25:41) Body Language – Just Let It
(1:29:55) Michl – Kill Our Way To Heaven
(1:33:45) Manatee Commune – Be Still (feat. Marina Price)
(1:36:45) Boys Noize – Starchild (feat. Poliça)
(1:41:00) The Range – Florida
(1:45:31) Nikitch – When It All Falls Down (feat. Andreya Triana)
(1:50:11) DJ Cam – Uncomfortable (feat. Chris James)
(1:54:10) Slovo – Whisper
Enjoy the show!