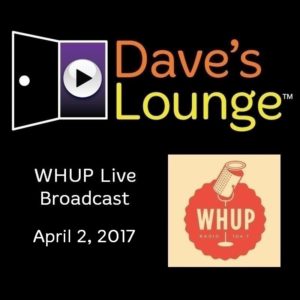 The amount of extra-chilled music I was able to find the week before this broadcast inspired me to do a show that will put you in a very relaxed mood. Those of you who enjoyed Dave's Lounge #290 will find a lot to like in this one.
And because it all flowed together so well, I'm distributing the full two-hour broadcast this week. This won't be a common occurrence in the coming months, so enjoy it while you can!
Tune into Dave's Lounge every Sunday at 3:00 PM Eastern Time (8:00 PM UTC) on WHUP FM 104.7 in Hillsborough, NC, or stream it online at whupfm.org.
Playlist for the April 2 broadcast of Dave's Lounge on WHUP:
(00:00) Adam Byrd – Without You (Aleksey Beloozerov Remix)
(07:13) Della Sol Lounge – Skin Deep
(11:31) Arma8 & Angel Falls – Dark Sides
(15:30) CLAVVS – Bloom
(18:57) Alivvve – Sorrow
(23:03) Minor Rain – Hollow Harvest
(28:54) Icelus – The Book of the Kings
(35:27) Insight – Endless Summer (Fake Truth Remix)
(42:11) Stas Isometrica – Wake Up
(47:55) Exopilot – Crossing the Asteroid Belt
(56:04) All India Radio with Leona Gray – Blessed Be
(1:00:25) Nanobyte (feat. Mary Lambert) – Part Of Life
(1:07:12) Architect – Immaterial (The Walton Hoax Remix)
(1:13:49) Ficci (feat. LaMeduza) – Wish
(1:17:31) State Azure – Snapshot Tokyo
(1:22:16) Galimatias – Noelle's Eloquence
(1:27:49) Ghosts Of Paraguay (Feat. Jett) – Hold Me Tight
(1:34:55) PolyCat – Two Gods In Disguise
(1:39:45) Nikko Gray – Water on the Moon (Space Kid Remix)
(1:43:46) Euphonic Traveler – Half Moon Bay
(1:50:13) Sigor – Say Goodbye (feat. Irina Barbu)
(1:55:30) Signoff: Mark Khoen – The Morning Air (Chillout Mix)
Music bed: Permanent4 – By Candlelight
Enjoy the show!