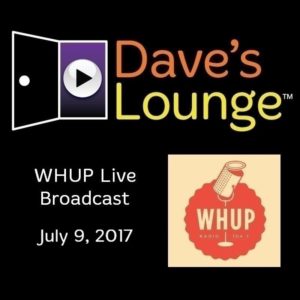 The July 9 broadcast of Dave's Lounge on WHUP touches on a wide spectrum of downtempo styles — smooth chilled downtempo, instrumental hip hop-styled beats, and even some reggae and R&B-flavored tunes. Chances are there's something in here you'll enjoy, whether you're a long-time listener or a first-time downloader.
Tune into Dave's Lounge every Sunday at 3:00 PM Eastern Time (8:00 PM UTC) on WHUP FM 104.7 in Hillsborough, NC, or stream it online at whupfm.org.
Playlist for the July 9 broadcast of Dave's Lounge on WHUP:
(00:00) Bluetech feat. Katrina Blackstone – Change
(06:06) Abi Flynn – Ambiguous
(09:54) TOKiMONSTA – Don't Call Me (feat. Yuna)
(13:30) Frank Sinutre – Driving Thru A City By Night
(17:28) Frythm – There For You (feat. AVNDR)
(22:06) January – Whelmed
(25:36) Arma8 & Angel Falls – Dark Sides
(29:35) Gold Lounge feat. Kendra – Flying High
(34:21) The Human Experience – Into Your Wild (feat. Kalibri)
(40:05) Karriem Riggins – Bahia Dreamin'
(42:17) Dday One – Cielo Azul
(47:00) Ideaz – Blossom Fell
(49:58) Terracotta Blue – Lost-Found (feat. Emily Ehrens)
(55:51) Manatee Commune – Second Guess (feat. Marina Price)
Enjoy the show!