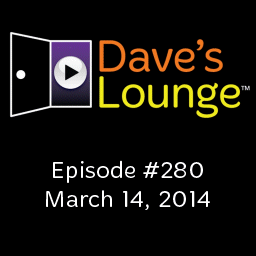 This show has always been committed to supporting independent music, although there's been more than one occasion in the past where a song with ties to a major label has ended up on the show by accident. Those shows aren't available online anymore. After the Dajaz1 fiasco a couple years ago, I figure it's best to be vigilant about these things. Some labels just hire lawyers that don't care what their promotions teams are doing, and even if they weren't, why support companies who are actively working against our best interests?
That vigilance is one of the reasons for the song I chose to be this week's opener. You can probably guess the other reason…
Playlist for Dave's Lounge #280:
Don't forget to tell me your favorite song from this week's show in the comments below!
Take your place to chill on the go with the Dave's Lounge App, which gives you to streaming access all the latest episodes of Dave's Lounge, plus bonus mixes not available in the podcast, for only $1.99. The Dave's Lounge App is now available for iOS, Android, Windows Phone, and Windows 8.
Enjoy the show!