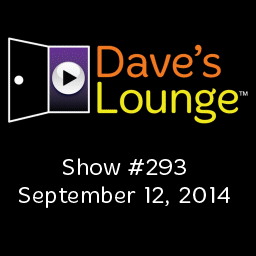 Last week brought me a much needed vacation, with a trip to Charleston, SC, and my annual post-Labor Day excursion to Virginia Beach for the Blues on the Beach festival. It's good to get away and get yourself among different scenery for a little while. Getting a different view can give you a different perspective on the world, and it's good to have as wide a perspective as possible. I'm still working on that.
Thanks to lack of sleep, the Virginia Beach trip occasionally took on a certain dream-like quality. As a result, this week's mix takes on a dream-like quality of its own. You'll find a few familiar tracks scattered in with some new ones, including something brand new from one of trip hop's legendary figures…
Playlist for Dave's Lounge #293:
Don't forget to tell me your favorite song from this week's show in the comments below!
Take your place to chill on the go with the Dave's Lounge App, which gives you to streaming access all the latest episodes of Dave's Lounge, plus bonus mixes not available in the podcast, for only $1.99. The Dave's Lounge App is now available for iOS, Android, Windows Phone, and Windows 8.
Enjoy the show!