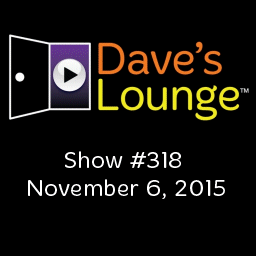 This week's show opens with the same song that opened the dance party at my wedding. (Woohoo!) I helped to kickstart Kawehi's next album, Interaktiv, and I asked her if she would cover a song that meant a lot to me and my new wife. It turned out fantastic. I hope y'all enjoy it as much as we did.
As if that weren't enough, Sine Music has a new compilation out, Autumn Time Vol. 3, that has some excellent tunes, and someone we haven't heard since Dave's Lounge #119 stops by for a visit…
Playlist for Dave's Lounge #318:
Don't forget to tell me your favorite song from this week's show in the comments below.
COME SEE ME DJ LIVE IN PHILADELPHIA NEXT WEEKEND! For the 3rd year in a row, I'll be DJing at DJX Fusion Weekend on Saturday, November 14. Click here for details.
Take your place to chill on the go with the Dave's Lounge App, which gives you to streaming access all the latest episodes of Dave's Lounge, plus bonus mixes not available in the podcast, for only $1.99. The Dave's Lounge App is now available for iOS, Android, and Windows Phone.
Enjoy the show!