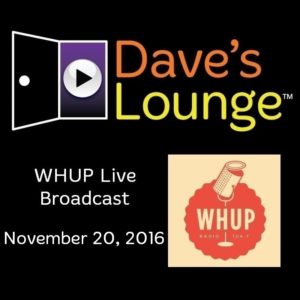 At the beginning of the November 20 broadcast of Dave's Lounge on WHUP, I told a story, and I played a song associated with that story. It was a story about me, my wife, a lot of ice, and a great singer who passed away recently. Sadly, that was a song that I don't have permission to play on the podcast, so I had to cut both the song and the story from this download.
If you'd like to hear that part of the broadcast, click here to stream it on the Dave's Lounge Mixcloud page.
Tune in to Dave's Lounge every Sunday at 3:00 PM Eastern Time on WHUP-LP FM 104.7 in Hillsborough, or online at: http://whupfm.org/
Playlist for the November 20 broadcast of Dave's Lounge on WHUP (Podcast edition):
(00:32) Wax Tailor – The Road Is Ruff (feat. Lee Fields)
(04:17) RJD2 – Saboteur (feat. Phonte Coleman)
(07:57) Fiendsh – Someday We'l All Be Free
(12:08) Quantic & Alice Russell – I'll Keep My Light In My Window
(19:00) Bonobo – Kerala
(22:54) The Left Rib – Daughter
(26:34) DOOXS – Wander
(30:59) Joy Frost – Orbiting Your Heart
(35:13) Ideaz – Every Day
(41:11) Kutiman – I Think I Am (feat. Karolina)
(46:17) Meeke – Delicate (feat. Urias)
(50:09) Pavel Dogval – Euphoria (feat. Starving Yet Full)
(52:38) Tearpop – In Sync
(57:38) Babeheaven – Moving On
(1:03:07) 1Touch – Time Has Chosen Us
(1:07:17) Templo – Bakanfort
(1:11:34) axion117 – Grain of Salt
(1:14:29) Joshua Wentz – ORD-BCN
(1:21:00) JAY-R.D. – Daybreak
(1:23:52) Verbal Kint – Harbor Lights
(1:28:34) Della Sol Lounge – Summer Haze
(1:32:46) Salt of the Sound – Did You Hear It?
(1:36:03) Microbunny – Ether
Enjoy the show!