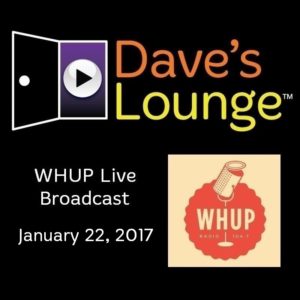 For the January 22 broadcast of Dave's Lounge on WHUP, I decided to focus on some of the labels with whom I've established relationships over the years. You'll hear tunes from Sine Music, Loodma Recordings, Cold Busted Records, and Soulection. You'll also hear a few tunes from the "lost" episode of Dave's Lounge (#182), which is no longer available online because of a copyright issue.
I'll be back in the studio on February 5 with some new music for you, so be sure to tune into WHUP FM 104.7 in Hillsborough, NC — or stream it online at whupfm.org — this Sunday at 3:00 PM Eastern Time, for another edition of Dave's Lounge.
Playlist for the January 22 broadcast of Dave's Lounge on WHUP:
(00:00) Anji Bee – Put Some Music On
(04:27) Polished Chrome – Remember Me
(09:37) Dragon & Rosebud feat. Juanita Grande – Tired Traveler (Villablue Color You Dub Mix)
(13:41) Boot Cut Rockers – Dream Your Dream
(17:59) Thomas Lemmer – I Like It
(24:32) Setsuna – Beccy's Song
(31:04) Sounds Like Water – Hold Me (feat. Fay Lovsky)
(37:41) Jazzra – The Only One
(41:05) Colette – Like The Sun
(44:17) The Grooveblaster – Oranges Popsicles and Lemonade
(50:24) Tree Bosier – Hometown
(54:13) Mr. Lefteye and Ghosts Of Paraguay (feat. LaMeduza) – Beneath It
(59:48) Amphior – Begone
(1:06:01) Minor Rain – Cross the River
(1:11:42) Galimatias – Noelle's Eloquence
(1:18:42) Poldoore – Long Walk Home (feat. Roselien)
(1:22:49) Emapea – Enjoy
(1:26:40) Mojo Rising – The Lighthouse
(1:32:06) mister T. – La Suite
(1:37:01) Akshin Alizadeh – Fly Away
(1:41:46) Evil Needle – Delight
(1:45:49) Atu – Can Do It
(1:48:35) Ta-Ku – Hard To Imagine
(1:51:45) Sango – All of You (Feat. Brea)
(1:54:42) Insightful – Amongst The Stars
Enjoy the show!