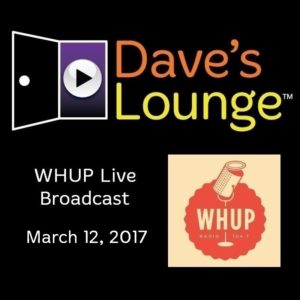 This week's show offers two different types of sets — one that's a little more beat-oriented with some R&B elements to it, and one that's much more chilled out and slowed down. Either way, you'll find a lot of music to enjoy in this hour.
Tune into Dave's Lounge every Sunday at 3:00 PM Eastern Time (8:00 PM UTC) on WHUP FM 104.7 in Hillsborough, NC, or stream it online at whupfm.org.
Playlist for the March 12 broadcast of Dave's Lounge on WHUP:
(00:00) CLAVVS – Silver Tongue
(05:55) Blu Acid feat. John Blake – No Time
(09:20) Anatoly Ice & Dariya – Hide
(13:57) AndyFellaz – Just One More Time
(17:27) Alice Russell – Heartbreaker (Acoustic Live)
(21:47) Guggenz – Break Even
(25:34) Poldoore (feat. Astrid) – Midnight In Saigon (B Bravo Remix)
(31:54) JANXX – Undress
(36:29) Kid Koala – Fallaway (featuring Emilíana Torrini)
(40:07) Thomas Lemmer – A I
(44:58) Gold Lounge – Sunset on the Moon
(52:57) Jamie Scoles – Endlessly (feat. Emily Colombier)
Enjoy the show!