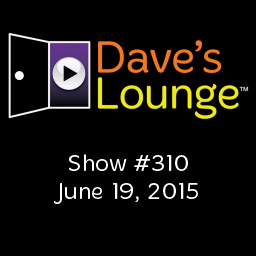 (Note: This is a revised version of Dave's Lounge #310. I explain why at the beginning of the show.)
So this week, I'm starting a little experiment. I've been looking at lot at the download stats for this show on Libsyn. There's many countries listed there, and quite a few cities. I thought it might be fun if listeners of this show in the same cities were able to get together to meet each other. This show seems like it's been around long enough to warrant such meetups.
We'll start this experiment where a good many tech experiments begin — San Francisco and Oakland. The last episode of Dave's Lounge got 99 downloads from this area. So who's listening out in the Bay Area? Leave a comment below and introduce yourselves to me, and to each other. It might be fun to make some new friends.
As for the music this week, we welcome back quite a few return visitors this week, as well as couple new ones who are making some great music…
Playlist for Dave's Lounge #310:
Don't forget to tell me your favorite song from this week's show in the comments below!
Take your place to chill on the go with the Dave's Lounge App, which gives you to streaming access all the latest episodes of Dave's Lounge, plus bonus mixes not available in the podcast, for only $1.99. The Dave's Lounge App is now available for iOS, Android, Windows Phone, and Windows 8.
Enjoy the show!