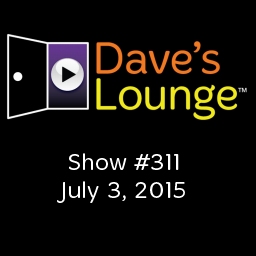 This week, we dig into the "defunct bands" database and find a new entry. Data Romance's 2013 album "Other", which was played a lot on this show a couple years ago, is no longer in print. The label that released it, SQE Music, went out of business and pulled all of their music out of online music stores and off streaming sites — a damn shame, because that was a really good album. We'll look back briefly on some of the music Ajay Bhattacharyya and Amy Kirkpatrick made and where they are now.
I've also added some extra music this week after having to pull a track from last week's show. My submission pile is still a mile high and filled with way too much club-oriented music. I'm starting to wonder if I should just start a new podcast called "Dave's House", what with all this house music I'm getting…
Playlist for Dave's Lounge #311:
Don't forget to tell me your favorite song from this week's show in the comments below!
Take your place to chill on the go with the Dave's Lounge App, which gives you to streaming access all the latest episodes of Dave's Lounge, plus bonus mixes not available in the podcast, for only $1.99. The Dave's Lounge App is now available for iOS, Android, Windows Phone, and Windows 8.
Enjoy the show!