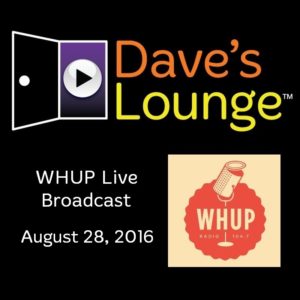 After a bit of frustration from the previous week's show, I decided to dig back into the archives of the Dave's Lounge podcast and take another listen to some of the music that made me want to record a show every week in the first place. Suffice to say, I found a TON of great tunes that I hadn't heard in a while. I thought I might play some of them for you this week. And next week. And the week after that.
Here's the first in a series of musical flashbacks. Be sure to tune into Dave's Lounge this Sunday at 3:00 PM Eastern Time on WHUP-LP FM 104.7 in Hillsborough (http://whupfm.org/) to hear more of these great tunes — especially if you missed them the first time around.
Playlist:
(00:00) Daughter Darling – Sad and Lonely
(05:46) Mudville – Blown (AJ Nuttal Remix)
(09:52) MinusBlue – Sunshine
(15:59) The Atomica Project – Delorian
(19:23) Fourier Wave Device – Broadmead
(25:45) Sporophyte – Walk in the Garden
(30:35) Acapulco Soundlab – Wheels Go By
(34:28) Kaje – Nothing's Changing (feat. Valntine)
(38:13) Tripstar – Beautiful
(42:22) 46bliss – The Way You Are
(48:42) Almadrava – A Mermaid's Tale (Remix)
(53:40) Sarah Fimm – Mercury
(59:57) The Past Present Organisation – Beautyfull
(1:05:11) Hip Son – Overloaded
(1:09:10) Saskia – The One
(1:13:19) Pete Samples – Between Exhales
(1:19:22) Hands Upon Black Earth – inspiral
(1:24:22) Endless Blue – Ninety-Nine
(1:30:10) 8mm – No Way Back
(1:35:07) Moosefrog – En La Oscuridad (feat. Anji Bee)
(1:41:52) Goldlix – Atoll Moao
(1:46:39) Solus – Ummes
(1:50:57) O-rynn – Materialize
(1:55:41) All India Radio – for angel (all india radio vs. don meers mix)
Enjoy the show!