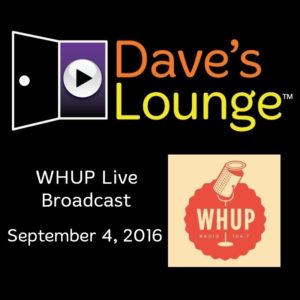 Last Sunday's broadcast continued our journey through the back catalog of music played on the Dave's Lounge podcast back in the day. (Amazing to think this show has been around long enough to have a "back in the day" period now.) We spotlight some music our old friends at Nettwerk Records, a label brave enough to stand against the RIAA and its heavy-handed tactics toward their own customers. We also dig up some gems, including a few I forgot I even had…
Be sure to tune into Dave's Lounge this Sunday at 3:00 PM Eastern Time on WHUP-LP FM 104.7 in Hillsborough (http://whupfm.org/) to hear more of these great tunes — especially if you missed them the first time around.
Playlist:
(00:00) Delerium – Innocente
(08:30) Fauxliage – Rafe
(13:35) Povi – Dragonflies
(17:09) Ivy – Worry About You
(21:07) BT – Shame (Bent Mix)
(29:37) Lal Meri – Dreams Of 18
(34:10) Luminous – Make It Happen
(38:25) Return to Mono – Song for Sleepers
(43:07) June Thought – Here
(49:46) Tal M. Klein – Yona (Ahava Sheli Across the Sea)
(55:07) MoShang – Comfort Zone
(1:00:12) Danny K – Silence between the words
(1:04:22) Kmotiv – One After Five
(1:08:33) The Flavor Foundation – Ether
(1:14:23) Natalie Walker – Quicksand (Thievery Corporation Remix)
(1:18:36) Sutro – Affected
(1:22:44) Atomica – Larsen
(1:27:07) Lila's Medicine – So They Say
(1:32:16) Urban Myth Club – Moon And The Night
(1:37:17) Pacha Massive – Don't Let Go
(1:40:47) Bluetech, Katrina Blackstone – Change
(1:45:25) Jojo Effect – Moods
(1:50:00) The Winston Giles Orchestra – We Wait For Sunrise
(1:55:38) Shulman – I Dive
Enjoy the show!