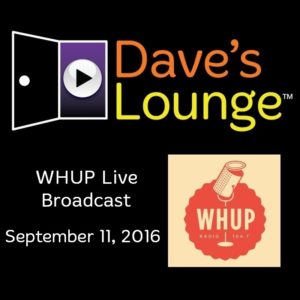 Last Sunday's broadcast was another trip through some of the great music you might have heard during the early days of the Dave's Lounge podcast. I had actually forgotten about a few of these. Sometimes it's good to go through your music collection and see if there's anything you might have been missing. After all, as the late, great Prince reminded us, "If it was good then, it's still good."
This Sunday's broadcast will be a repea–*ahem* "encore presentation", but I've got something VERY special planned for y'all after that, so make sure you tune in to Dave's Lounge on WHUP-LP FM 104.7 in Hillsborough (http://whupfm.org/) on Sunday, September 25, and every Sunday after!
(00:00) All India Radio – Far Away
(04:57) Mr. Meeble – Dragonfly
(09:02) Shaheen Sheik – Wildflower World (Soul Avenue Remix)
(13:44) Natalie Walker – Lost My Shadow
(17:16) Mooli – One Design
(21:45) Shanghai Restoration Project – Call Me Home
(26:15) Soma Sonic – Simplicity
(31:38) Sleepthief – Entre Ciel et Mer (ft. san.drine)
(36:18) Magic Waves – Tonight
(42:56) Vanessa Daou – Mess Around
(46:43) palliDust – Temptation
(52:34) Thievery Corporation – The Forgotten People
(55:45) Rena Jones – A Curious Unraveling
(1:00:11) Under the Radar – The Little Woodland Robots
(1:02:49) The Orb – A Beautiful Day
(1:10:29) Elsiane – Across The Stream
(1:14:56) The Atomica Project – Gravity
(1:19:24) Bardo State – Mariposa
(1:23:58) Blind Divine – Letting Go
(1:28:02) The Unknownn – Nocturnal
(1:34:37) iio – Rapture (Soulside Remix)
(1:41:08) MinusBlue (feat. Emma Saville) – Be As One (Michael E. Rmx)
(1:45:36) Caitlyn Hessell – Always There (Toby Benson Remix)
(1:52:28) North Atlantic Explorers – Anchors Away
Enjoy the show!