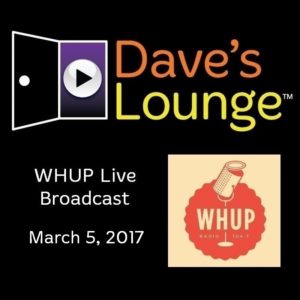 You might have noticed that I'm a bit late in getting the March 5 broadcast out to the podcast feed. WHUP makes a WAV file of each broadcast available on their network a few minutes after the show is done, and I usually transfer that file to a thumb drive before I leave the studio. For whatever reason, the file transfer cut off the WAV file at around the 50-minute mark — which I didn't discover until the next day.
Unwilling to put out an incomplete hour of music and unable to get back to the studio during the week, I decided to wait to get the full file this time. I hope you find this week's podcast worth the wait.
Tune into Dave's Lounge every Sunday at 3:00 PM Eastern Time (8:00 PM UTC) on WHUP FM 104.7 in Hillsborough, NC, or stream it online at whupfm.org.
Playlist for the March 5 broadcast of Dave's Lounge on WHUP:
(00:00) Lost Midas – Kayla's Lullaby (feat. Kalispell)
(04:34) Elliot Moss – Closedloop
(09:13) TRACE – Honey
(13:13) The Human Experience – Broken Open
(18:18) Artemis – Janus Eyes
(23:27) Blu ACid – No Time (feat. John Blake)
(26:53) Christian Loeffler – Haul (feat. Mohna)
(30:26) Parra For Cuva – Unfinished Colours (feat. Other)
(34:59) Yoe Mase – After Hours
(39:30) DeepCosmo – In a Field of Flowers
(42:40) Magnetic Brothers – Arda
(50:01) Mandala Fields – Koh Tao
(56:44) RYDER – Nirvana
Enjoy the show!